Monday, March 6, 2017 / by Kevin Schumacher
A common question that any agent comes across by buyers to our area is what are the causes for the housing market to boom in Northern Colorado?
There is not just one answer, nor one full suite answer, but a multitude of factors that are causing the increase in people moving to the Northern Colorado area.
Now we know you are thinking green, as many others do, but beyond singling legal marijuana consumption as the sole cause of individuals moving to Northern Colorado there are many factors that are causing the demand for homes in NoCo.
Here is a list of common reasons we hear from clients moving to Northern Colorado.
So what is causing this boom?
Great School Systems
Northern Colorado is known to have great school systems which is an attraction for families that are looking to move to Colorado. When you cross reference affordability and great schools, Northern Colorado stands out as a great spot to move for families with kids 18 years and younger.
In Colorado there are over 100 districts. We have included school systems that are in the top 50% of schools in all of Colorado below. For a full list visit: SchoolDigger.com.
These ratings are based on information by SchoolDigger.com which calculates school rankings based on test scores released by the Colorado Department of Education, National Center for Education Statistics, the U.S. Department of Education and Colorado Department of Education sources.
Economic Growth
Colorado is ranked fourth nationally in the growth rate of its gross domestic product during the fourth quarter of 2016.
Colorado GDP grew 5.1% in the third quarter of 2016 trailing behind South Dakota (7.1%), Utah (5.8%) and Nevada (5.2%). In fact, Colorado has had some of the highest GDP growth for the last several years. In 2015, we were also fourth in the nation for fastest growing economy experiencing a 3.6% growth in 2015.
Job Opportunities
The Coloradoan released an article recently that depicts a shortage in workers in the Fort Collins-Loveland area over the next five years. They attribute this problem to the labor market not adding enough people to fill created positions, almost 1/4 of workers in the area being 55 and older, Fort Collins exportation of existing jobs, and under-employment. This has led to the release of Talent 2.0: Regional Workforce Strategy, Fort Collins-Loveland Metro Area which is a program that helps employers find and retain employees and aligns education and workforce resources with the business community.
Labor opportunities are a large reason we see people moving to Northern Colorado. We have continually seen businesses in our area expanding and large companies choosing NoCo to further develop their companies. Here is a list of just some of the businesses and projects that are in the works of development in Larimer and Weld County.
Larimer County:
Weld County:


J. M. Smucker Company- Development will being Spring 2017 with completion date expected in 2019. The company is expected to hire 250 employees initially.


Agilent Technologies- The company will be building a pharmaceutical manufacturing facility that will add 150-200 employment opportunities to Weld County.


Retirement
We are seeing a lot of people moving to our area for retirement from higher price point states. Below is a picture that shows the top five states that we see individuals moving to Colorado from based on 2014 tax returns.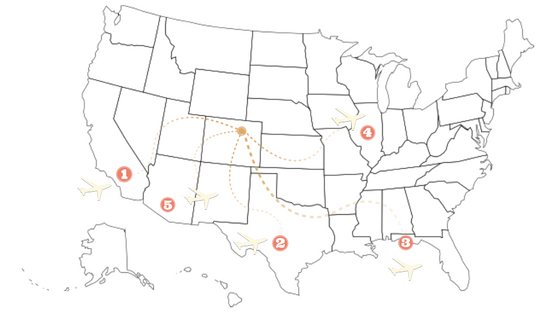 It's not a surprise that California is the top state that individuals are moving from to our area. We talk to people all the time who are looking to sell their homes in California and purchase a home outright in Northern Colorado as their retirement property due to affordability of living.
Great school systems means lots of kids! We are commonly seeing older individuals moving here to retire near their children and grandchildren.
Lifestyle
With home prices in the Boulder/Denver area being significantly higher than here in Northern Colorado, we see a lot of homeowners that live up North but work in a city further South. The drive could be due to affordability but also so that homeowners can get more house/amenities for the price!
In addition to the drive for affordability, the 'Coloradoan' lifestyle is a large attraction for those who are moving to Northern Colorado. Colorado continually ranks in the top 10 healthiest states in the country and is known for it's residents living an active outdoor lifestyle. We could make this a section in itself, but moving to Colorado can't be talked about without mentioning that the Rocky Mountains are a large attraction to living in Colorado. There is no shortage on outdoor activities in our state.
If we had to single this down to one reason we can sum it up in just one word, opportunity. Northern Colorado offers opportunities to its residents both personally and professionally, helping residents grow and causing NoCo to grow too!